The home kits and away kits of Uruguay's FIFA World Cup Jersey in 2022 have been launched. These kits are one of the most stylish and comfortable jerseys you will ever wear.
Both are made of high-quality materials that are lightweight and breathable, making them perfect for any weather. The jersey design is sleek and modern, with the Uruguay flag prominently displayed on the front.
However, Uruguay has a long and proud history in the FIFA World Cup, having won the tournament twice, in 1930 and 1950. They have also reached the semi-finals on four occasions.
Uruguay hopes to replicate its past success in the 2022 FIFA World Cup, and its new kits will undoubtedly be a big part of that.
Uruguay World Cup 2022 Home Kit
Uruguay's traditional sky blue home kit for the 2022 World Cup in Qatar is one of the best jerseys that Puma has designed for the tournament.
The simple design is free of any gimmicks, and the white collar and cuffs give the shirt a clean and crisp look. Uruguay will surely look sharp on the pitch in this kit, and fans will love to show their support for the team.
Uruguay World Cup 2022 Away Kit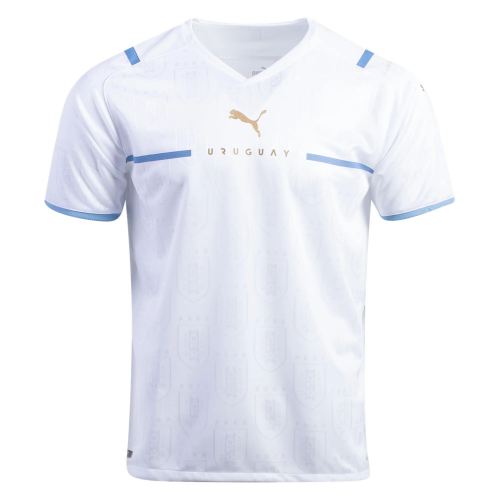 The Uruguay World Cup 2022 away kit is a beautiful shirt that pays homage to the country's rich football history. The kit, which features a white base with blue and red stripes down the front, is a clear homage to the iconic jersey worn by Uruguay in the 1950 World Cup. The Uruguay kit also has a v-neck collar.
There is no doubt that the new kit is stylish, but its close similarity to Argentina's colors is sure to be a source of contention among some Uruguay fans. Overall, the kit is a sharp, stylish shirt that any Uruguay fan would be proud to wear.