Kasper Schmeichel, a professional football player from Denmark, is the goalkeeper for both the Denmark national team and League 1 club Nice at the moment. He has a net worth of $20 million.
In this article, we will learn about Kasper Schmeichel's net worth, salary, earnings, biography, and many more.
About Kasper Schmeichel
Kasper Peter Schmeichel, a goalkeeper for Nice of the Ligue 1 and the Danish national team, was born in Denmark on November 5, 1986.
Before making his first-team debut, Schmeichel spent time on loan with Darlington, Bury, and Falkirk. Schmeichel started his career at Manchester City.
At the beginning of the 2007–2008 campaign, Schmeichel seemed to have cemented his claim to the City's number 1 jersey, but the rise of Joe Hart led to Schmeichel's loan to Cardiff City.
Early Life
In Copenhagen, Denmark, on November 5, 1986, Kasper Schmeichel was born. He is of Polish ancestry through his paternal grandparents and is the son of Bente and former Denmark international goalie Peter Schmeichel.
Schmeichel was born and raised in Denmark, but due to his father's playing career, he lived in England for most of his youth. Both Danish and English, which Kasper speaks with a Northern-English accent, are his native tongues.
While his father was playing for Sporting CP in Lisbon, he attended Saint Julian's School in Portugal and Hulme Hall Grammar School in Cheadle Hulme, Stockport, Greater Manchester.
Career 
While his father was a member of Sporting CP in Portugal in 2000, Schmeichel began playing organized football there. He participated for one season in the Estoril youth academy, where he was successful in taking home a championship.
In September 2002, Schmeichel signed a long-term contract with Manchester City that included school, academic, and professional stipulations. 
He signed a loan agreement with League Two club Darlington in January 2006, and on January 14, 2006, he made his professional first-team debut against Peterborough United at the Darlington Arena.
Schmeichel reportedly shattered the club's previous transfer record when he joined League Two team Notts County on August 14, 2009. Schmeichel committed to Ligue 1 Club Nice on August 3, 2022.
Kasper Schmeichel's Net Worth and Earnings
As of 2023, the Danish professional footballer Kasper Schmeichel has a net worth of $20 million.
He made most of this money from his professional career in football by playing in both the international world cup and all the clubs throughout his career such as Manchester City, Notts County, Leeds United, Leicester City, and currently Nice FC.
Salary
Schmeichel's base salary will be £6,760,000 in 2023, with a cap hit of £6,760,000. He is currently one of the most highly-paid footballers in Nice FC.
Endorsement
As of 2023, the Danish native footballer does not possess any endorsements. There is no information on whether he has any sponsorships or not even though he is a stunning goalkeeper. If we get to know any information soon it will be updated on the website.
Quick Facts 
Full Name

Kasper Peter Schmeichel

Nickname

Peter

Born

5 November 1986

Debut

2006

Height

1.89 m

Weight

89 kg

Age

36 years old

Birthplace

Copenhagen

, Denmark

Religion

Christian

Nationality

Danish

Net Worth

$20 million

Marital Status

Married

Father name

Peter Schmeichel

Mother name

Bente Schmeichel

Instagram Handle

Kasper Schmeichel
Wife
Stine Gyldenbrand and Schmeichel are wed. A boy was born in 2010, a daughter in 2012, and a second daughter in 2021, making a total of three kids for the couple.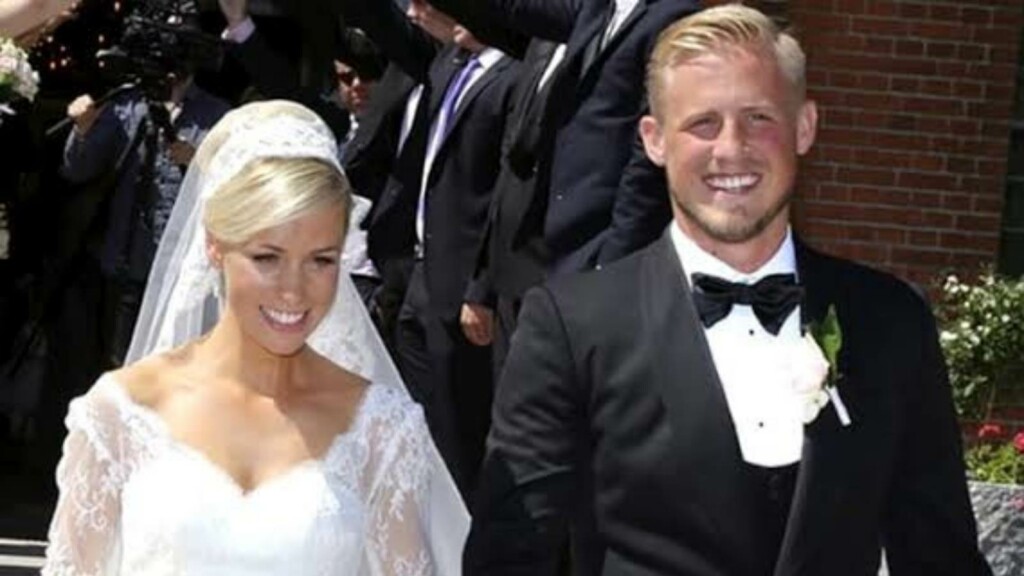 Age 
Kasper Schmeichel was born on 5 November 1986 and as of 2023, he is 36 years old.
Height And Weight
He stands 6 feet 2 inches tall and weighs around 89 kg.
Career stats
Club

Season

League

National Cup

League Cup

Division

Apps

Goals

Apps

Goals

Apps

Goals

Manchester City

2005–06

Premier League

2006–07

Premier League

2007–08

Premier League

7

2008–09

Premier League

1

1

Total

8

1

Darlington (loan)

2005–06

League Two

4

Bury (loan)

2005–06

League Two

15

2006–07

League Two

14

Total

29

Falkirk (loan)

2006–07

Scottish Premier League

15

1

1

Cardiff City (loan)

2007–08

Championship

14

Coventry City (loan)

2007–08

Championship

9

Notts County

2009–10

League Two

43

5

Leeds United

2010–11

Championship

37

2

1

Leicester City

2011–12

Championship

46

5

1

2012–12

Championship

46

3

2

2013–14

Championship

46

1

4

2014–15

Premier League

24

2015–16

Premier League

38

2

2016–17

Premier League

30

2

2017–18

Premier League

33

2

2018–19

Premier League

38

2019–20

Premier League

38

2

4

2020–21

Premier League

38

4

2021–22

Premier League

37

1

Total

414

21

12

Nice

2022–23

Ligue 1

33

1

—

Career total

606

30

15
Faqs About Kasper Schmeichel
When did he start to play professionally?
His professional debut was in 2006.

Which club does he play for now?
As of 2023, he plays for a League 1 club Nice FC.
Related: Vasiliy Lomachenko Net Worth