If you're searching for the best soccer ball, then informed decisions are crucial. In this post, we'll teach you everything about soccer ball sizes and weights. After reading the information and checking out our detailed soccer ball size chart, you'll choose the right size.
Learn about official soccer ball sizes and weights, specifications, age groups each correlates to, utilities, and inflation best practices.
Soccer Ball Sizes and Weights Chart
| | | | | |
| --- | --- | --- | --- | --- |
| Size | Circumference | Weight | # of Panels | Air Pressure |
| 1 (Skills) | 18-20 in (45.72-50.8 cm) | | | |
| 2 (Promotional) | 20-22 in (51-56 cm) | | | |
| 3 (Junior) | 23-24 in (58-60 cm) | 11-12 oz (312-340 gm) | 18 & 32 | 8.7-16.1 psi (0.6-1.1 bar) |
| 4 (Youth) | 25-26 in (63.5-66 cm) | 12-13 oz (340-369 gm) | 32 | 8.5-15.6 psi (0.6-1.1 bar) |
| 5 (Adult) | 27-28 in (68-70 cm) | 14-16 oz (410-450 gm) | 32: 12 pentagons + 20 hexagons | 8.5-15.6 psi (0.6-1.1 bar) |
Ball Sizes and Age Groups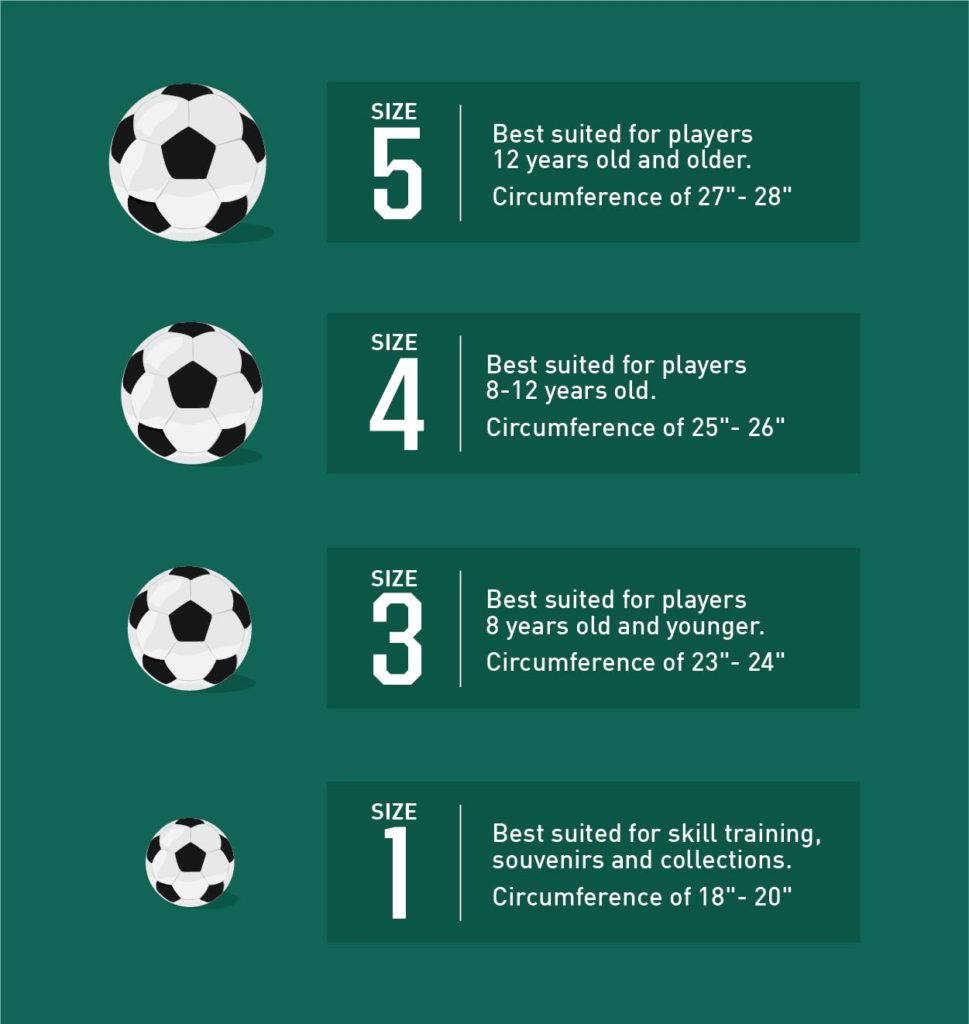 How to Choose the Right Soccer Ball Size
Figuring out which size to pick is an important move. It must be your first move before you go and buy one.
Pay Attention to Your Age Group. You need to know which age group the ball will be used with. Consult with your organization or coach to learn your age group's proper soccer ball size.
Different soccer leagues may use different sizes.
When it comes to using a soccer ball during a match, there are three different sizes. They range from size 3 to size 5.
Ball Size 3
These are the smallest soccer balls available for match games.
Usually used by children under 8 years old.
Size 3 balls measure 23-24 inches (58-60 centimeters) in circumference and weigh 11-12 ounces (312-340 grams).

Ball Size 4
These are the medium size soccer balls available for match games.
Generally used by children between the ages of 8-12 years old.
Size 4 balls measure 25-26 inches (63.5-66 centimeters) in circumference and weigh 12-13 ounces (340-369 grams).
Ball Size 5
This is the standard international match ball size.
Used by ages from 12 years old up.
Size 5 balls measure 27-28 inches (68-70 centimeters) in circumference and weigh 14-16 ounces (410-450 grams).
Law 2 of Association Football (soccer) specifies the rules and directions of the football (ball).
Special Sizes and Utilities
There are too extra flavors besides those used in soccer matches (referred above).
Here they are, and what uses or utilities they represent.
Ball Size 1
Nike calls it a "Pee-Wee" type ball.
It's used as a skills ball for all ages. And it is also recommended for small children just to play around.
Size 1 balls measure 18-20 inches (45-51 centimeters).
Ball Size 2
This is a MIDI-type ball.
It's used for all ages.
Size 2 balls measure 20-22 inches (51-56 centimeters).
How to Inflate a Soccer Ball
Taking care of your soccer ball will prolong its life and ensure a better user experience.
Using proper air pressure and inflating it correctly is part of your ball care routines.
Learn how to best inflate your soccer ball by following these instructions.
First things first. Before anything else, unfold your soccer ball with both hands so that its bladder "walls" become separated, making it softer and easier for the air to get in.
Now apply a drop of silicon oil into the valve to inflate it much easier.
Be careful when inserting and pushing the inflation pump needle into and inside the valve. You don't damage the bladder or the valve.
Inflate your soccer ball firstly up to 0.6 bar and let it rest for 5 minutes before inflating it to the recommended pressure.
Throw the ball against the ground and see if it bounces well. Press your thumbs against its surface to confirm it is nicely inflated.
Don't ever over-inflate it. I've done that, unfortunately. The bladder was so hard it tore the panels apart.
Keep your inflation needle in a safe place, so it doesn't get damaged.
Time for the fun part. Let's play ball.
Conclusion
You found a detailed informational post about soccer ball sizes, weights, uses, and other utilities. I've also talked about soccer ball air pressure and how to best inflate them.
I trust my soccer ball size chart may have helped you select the correct size and weight for your next ball.
All this information is important when looking to get the best ball for your particular needs and how to best take care of them.